Muay Thai Westchester
If you're looking to get the best from your Muay Thai training either for fitness, competition or fun, there's only one name that comes to mind. Muay Thai Westchester is the oldest and longest running Muay Thai kickboxing program in Westchester County.
Our Muay Thai system offers you the opportunity to learn the art of Muay Thai Kickboxing.
A chance to get fit and become more self-confident.
An opportunity to get the best out of yourself.
Muay Thai is referred to as "The Art of Eight Limbs"; and by using eight points of contact the body can mimic the weapons of war:
the hands become the sword and dagger; the shins and forearms were hardened in training to act as armour against blows, and the elbows become a heavy mace or hammer; the legs and knees become the axe and staff. The body operates as one unit.
I want to get fit and lose some weight
Muay Thai fighters are known around the world to be supreme athletes with unparalleled fitness and conditioning. Our Muay Thai fitness classes embrace's all the fitness aspect of a Muay Thai fighter's routine without getting hit. Our Muay Thai Fitness program will get you fit and in tip top shape in record time, you will quickly start to burn fat, strengthen and define your legs, arms and stomach.
I want to fight
If your goal is to compete in Muay Thai, then you have come to the right place!
You will be getting the best training possible on the road to fulfilling your dreams and maybe, just maybe the opportunity to accomplish greatness.
I want to learn the art of Muay Thai
"I come with an empty cub and leave with it full"
You have an opportunity to learn Muay Thai from Peter (Smiling Assassin) Belmar.
Come in and learn his unique style of combining his hands, legs, knees and elbows.
Turn each page with an open mind, leave with an abundance of knowledge on your journey.
"The cover of a book is not the true contents of the whole story"
Beginners Muay Thai Course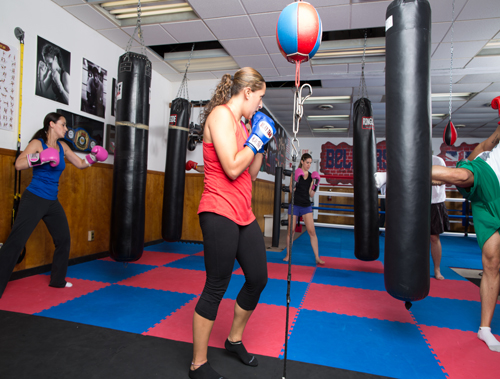 Next course: Monday, Jan 22nd, 2018
This is a structured 5-weeks course which is aimed firmly at people who are just starting the journey of learning Muay Thai, kickboxing, and boxing. It will enable you to build a firm foundation of knowledge and fitness in a safe atmosphere, without the danger of injury normally associated with these types of Martial Arts.